Visit the A.G. Booth #807 at Corrugated Week 2022
Countdown to Corrugated Week 2022
NEW Digital Technologies
A.G. Stacker will unveil new digital technologies including a
new DUO
™
digital twin
,
developed for the
eXT
RDC stacker front end system, new security and service features for the
A.G. GO
™
m
obile
a
pp
,
and
a new digital simulation technology.
Interactive Equipment Stations
Throughout our booth explore and operate A.G. systems with our multifaceted digital technology. Our engineering team will help guide you in this digital world and answer any questions about our systems.
VIEW EQUIPMENT
Product Specialists & Industry Insight
Speak with A.G.
sales, service and engineering
staff
at Corrugated Week 2022 to discuss
the
advantages of the
new innovations and the future of the corrugated industry.
Free Refreshments, Giveaways & Collateral
A.G. will have beer and wine served daily, along with product hand outs, contests and free A.G. giveaways. Stay tuned for more information on booth features and entertainment.
Our team is eager to meet you at CorrWeek 2022!
Please contact us for information on A.G. products & new innovations, the A.G. booth, registration or any other question or concerns you have.
See you in San Antonio, TX!
Corrugated Week 2022
September 19-21, 2022
Henry B. Gonzalez Convention Center
  August 25, 2022 - Weyers Cave, VA— A.G. Stacker, custom manufacturer of innovative material handling equipment and technology, will release new digital technologies for their full line of equipment at Corrugated Week 2022, Booth #807.  All CorrWeek attendees are...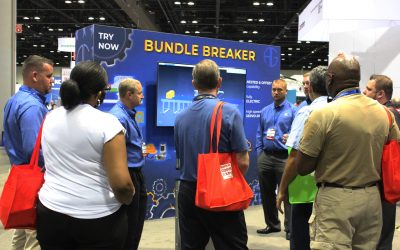 - New fully electric, fully integrated equipment and technology prepares the way for a complete digital transformation of A.G. systems – September 7, 2021 - Weyers Cave, VA  — Leader and innovator of sheet stacking equipment, A.G. Stacker, unveiled expanded equipment...