Fully integrated, flexible outfeed conveyor solutions for efficient Boxmakers.
X12 Pitless Lift Conveyor

No pit needed – saves time & money, less maintenance, allows for adjustment in floor plan

Reinforced and balanced for heavy loads.

Patented!

Fully Integrated: no need for another HMI

Highly Efficient: discharges in seven seconds, not 10, 15, or 20

Safety First: incorporated with stacker's ISS to keep operators safe

Less Stress: less vertical movement for the stacker

Easily Retrofitted: add to existing stacker to improve performance

Standard Sizes: 115", 125" – other sizes available upon request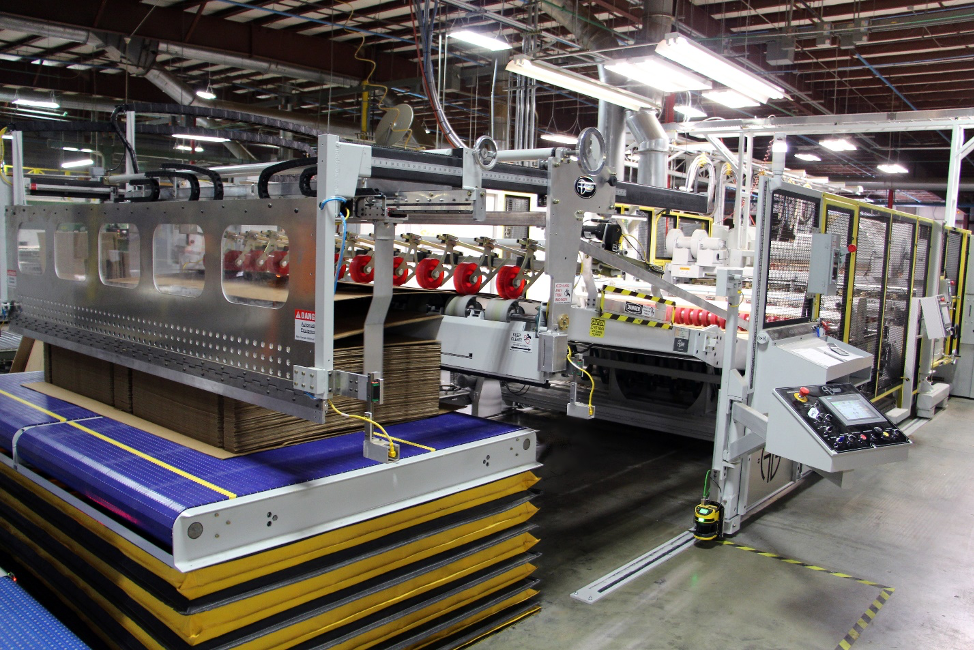 Ball Belt
NEW! Ball mesh that allows product to be discharged in any direction, mounted on the X12 lift for convenient, reliable performance without rollers.
Bundle Conveying System (BCS)
Fully integrated, flexible system for conveying bundles or stacks downstream.
Most commonly configured as two stages: X12 + 2nd stage option (Pop Up or Ball Belt)

Retrofittable to non-A.G. Stackers (subject to engineering review)

Pop Up – Roller conveyor in the through direction with mesh pop-ups that can discharge left or right
Indexing Conveyor System (XCS)

Simple outfeed conveyor solution for indexing stacks after the stacker & X12 build stacks. Composed of 1-3 conveyors typically.
Floor conveyors are also available for individual purchase.
Special Project or Space?
Contact AG Stacker today and let's find a solution together.