eBREAK Bundle Breaker
Capable of a variety of bundle configurations and heights, the new eBREAK Bundle Breaker is a dynamic solution to improve end of line efficiency. 
Variety of Bundle Configurations & Heights
Integrated Safety Features
Patent-Pending Technology
With the NEW eBREAK Bundle Breaker, Converters can quickly and easily break bundles in a variety of configurations to improve end of line efficiency. The patent-pending movable platen design allows for fully dynamic and customizable positioning of both the entry and exit platen, independent or synchronized, to provide a clean break.
Capable of Variable, Straight, Nested and Offset Breaks
Servo-Driven Clamp & Break System
Independent & Synchronized Platen Capability
Order Recipe Recall System
Integrated Safety Features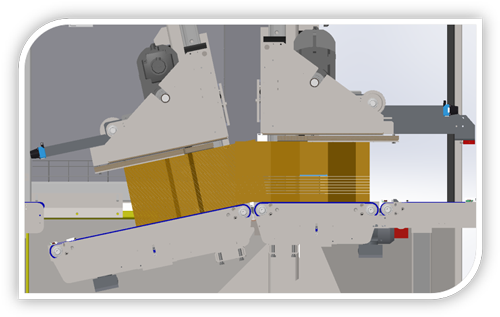 eSERIES EQUIPMENT LINE
Systems in the NEW eSERIES product lines are fully electric, fully integrated high speed systems without pits, pneumatics or hydraulics. The eSERIES innovations prepare the way for a complete digital transformation of A.G. systems.
No Pits, Hydraulics or Pneumatics
INTEGRATED BUNDLE BREAKER SAFETY
Fully integrated to the Bundle Conveying System and Stacker equipment, the eBREAK offers multiple features to protect your operators from risk of injury or strain.
Integrated to the A.G. Line
DIGITAL TWIN ENABLED
A.G. Stacker has engineered a fully-functioning digital twin of the eBREAK Bundle Breaker. Using  digital twin technology, customers can:
Collaborate with A.G. Engineers
Test Production Processes
Let's Get Started
Find out  how an AG Stacker eBREAK Bundle Breaker can improve your end of line efficiency.