The XRI
™

Corrugated Stacker
The XRI™ Corrugated Stacker offers an innovative design and heavy duty construction. Known by Boxmakers as the stacker investment that will last decades.
XRI
™

Stacker Sizes

The XRI
™

stacker is a versatile corrugated stacker machine available in the following sizes as well as customized and jumbo sizes: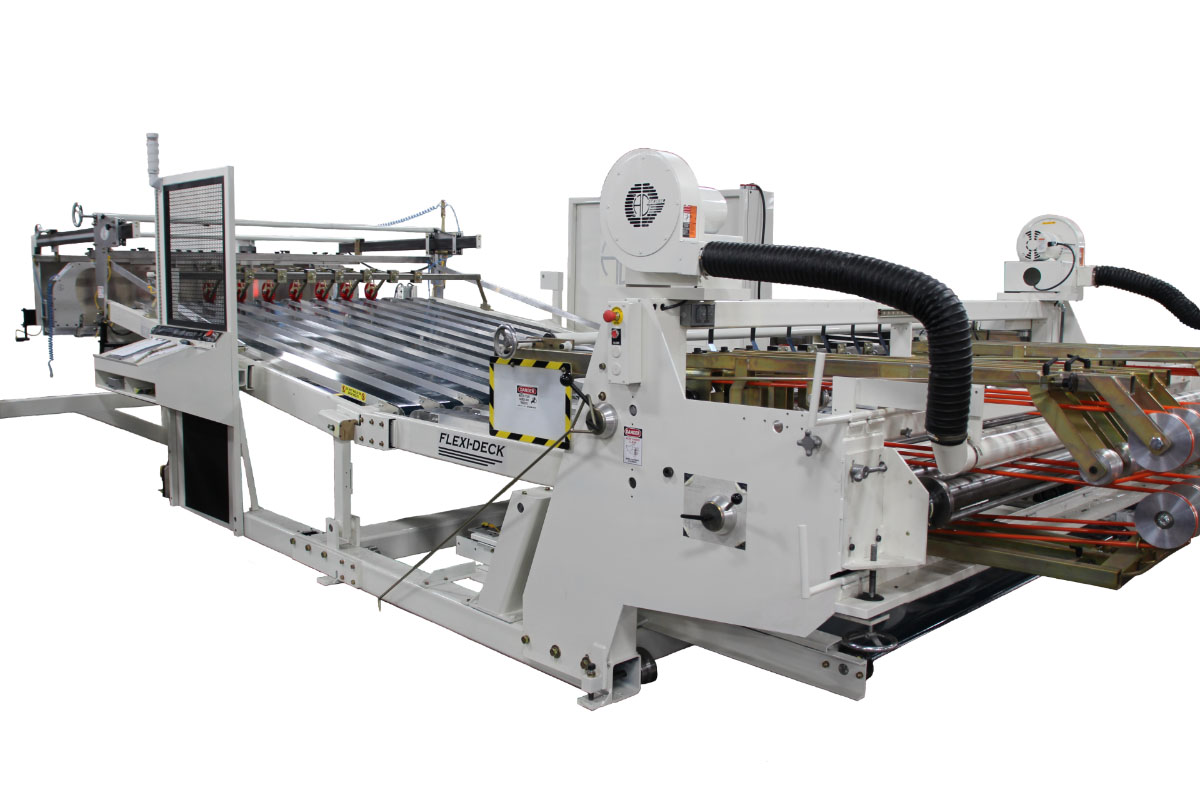 COMMITTED TO INNOVATION
With multiple patent and patent pending innovations, our corrugated stacker systems are engineered to increase safety, productivity, and connectivity for converters nationwide.
Intelligent Safety System
COMMITTED TO SAFETY
At A.G. we put safety first when it comes to engineering and designing our stackers. The XRI™ Corrugated Stacker includes the following safety measures
Fully Integrated Safety Features
GO AG

™ DIGITAL

 APP ENABLED
A.G. Stacker has not only invested in a Digital APP, GO AG™, but features of the XRI™ Corrugated Stacker are also DUO™ digital twin enabled! Available as a service upgrade, GO AG™ allows converters to take advantage of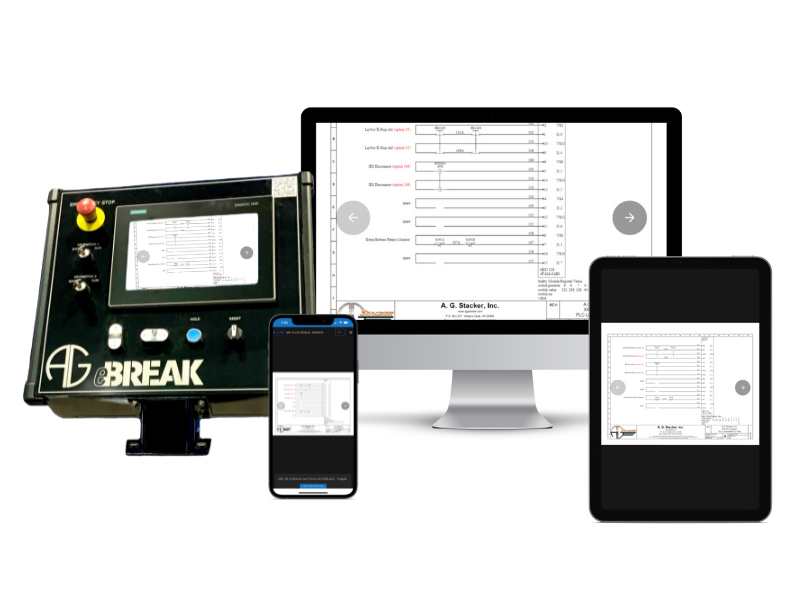 In-APP Service & Parts Requests
XRI
™

Stacker Standard Features

Layboy Section
Accuset Layboy Arms
Zero Crush Snubbing Wheels
Solid Aluminum Backstop
Accurack
Powered Rollout
Intuitive HMI
Side Catchers
Deck Lock Out System
Intelligent Safety System
Remote Diagnostic System
Proportional Valve Hydraulics
Ergonomic Operator Station

Understanding A.G.'s Corrugated Stackers
Features

G3

™

Stacker

XRI

™

Stacker
Mobile APP & Digital Twin Enabled

X
X

13,500+ KPH

X
X

4-Out Capability

X
X

Layboy Section

High Performance Layboy

Original Layboy Section

Accuset Layboy Arms

X
X

Accurack (P)

X

X

Powered Rollout

X

X

Intuitive HMI

X

X

Side Catchers

X

X

Snubbing Wheels

Carriage Style Snubbing Wheels

Zero Crush Snubbing Wheel

Backstop

Ventilated Vision Backstop
Solid Aluminum Backstop

Deck Lock Out System

X

X

Intelligent Safety System (P)

X

X

Remote Diagnostic System

X

X

Proportional Hydraulic Controls

X

X

Ergonomic Operator Station

X

X

A

ir-Operated Deck Snubbing Wheel Lift System

X

 

Tampers & Dividers

X

 

Accumulator Back Tamping

X

 

Pivoting Hopper Guides

X

 

Scrap Release Technology

X

 

Order Memory System

X

 

Flexi Deck

X

 
Innovation comes Standard
Standard features of A.G's Corrugated Stacker
*(P) indicates patented systems*

Operation control station
Ergonomically mounted color touch screen is intuitive and easy to learn with no cumbersome boom. Memory system available.
State of the art system that consistently scans, detects, records, and alerts personnel in or near safety zones to ensure operator safety.
ACCURACK ACCUMULATOR RACK (P)
Single motor servo driven movement with smooth electric start and stop reducing the need for maintenance.
DECK LOCK OUT SYSTEM
Allows mechanical locking of the main deck, while the deck is raised, to allow safe access for cleaning and maintenance.
Accuset Layboy Arm Adjustment
Set all layboy arms to the same setting on each dial for fast & accurate setup!
TAMPERS
Pneumatic or electric driven to aid incoming boards onto stack. Multiple modes of preference available.
proportional hydraulic control
Regulate smooth vertical transitions of the stacker.
Solid Reinforced Backstop
Reinforce backstop to prevent flex for consistent stacks and improved performance.
REMOTE DIAGNOSTIC SYSTEM
Allows A.G. technicians to monitor and run diagnose issues remotely.
XRI Corrugated Stacker Optional Features
*(P) indicates patented systems  |  (PP) indicated patent pending systems* 

High Velocity Scrap Blowers (4×5 HP)
New Engineered Air Knife Design, with Varible Speed Control
New Scrap Release Layboy Arm Design
Requires HPLX
Drag-and-drop screen allows for quick adjustment of diverting section for multi-out while line runs or to automate machine setup
Manually Feed Roller Conveyor with Roll In/Roll Out Capability
Operator Side of Stacker Shuttle Cart
12″ Top of Roller
Shuttle Cart with 15′-0″ of Travel
Complete backstop and tamper set up by pushing a button or adjust from the HMI as the line runs.
flexi-deck (P)
This flexible transfer desk sits between the layboy and main deck to ensure blanks transfer onto a level, gap-free surface.
PIvoting Hopper Guides
Pivots easily to meet irregularly-shaped sheets. Can be retrofitted to existing stacker.
air operated deck lift
Raises the deck snubbing wheels vertically to make clearing a job fast, safe, and easy.
SAMPLE QUALITY REJECTION
SYSTEM (P)
As simple as the push of a button, the SQR operates at full speed with manual or automatic capability for rejection. Receive board for quality samples or print quality checks, while keeping operators safe, running at full production.
No Feed Interruptions
Over 12,000+ KPH
New Log Every 8 Seconds
Fully Integraded into X12 Pitless
Bundle Conveyor System
HIGH SPEED HOPPER EJECTOR | HSHE (P)
Paired with the bundle conveying system, the HSHE has the look and feel of a normal backstop and allows for the fastest cycle time when discharging or moving bundles.
Rotating Layboy Exit Guides
Rotating Dampening Rollers
Additional Lay Boy Arms
Scrap Conveyor Lead Edge Guides
Laser Line (P)
Accu-Nip
Dual Air Blades
Layboy Touch Screen
Let's Get Started
Find out how an AG Stacker XRI™ corrugated stacking system can improve your workflow. Request a quote online today!