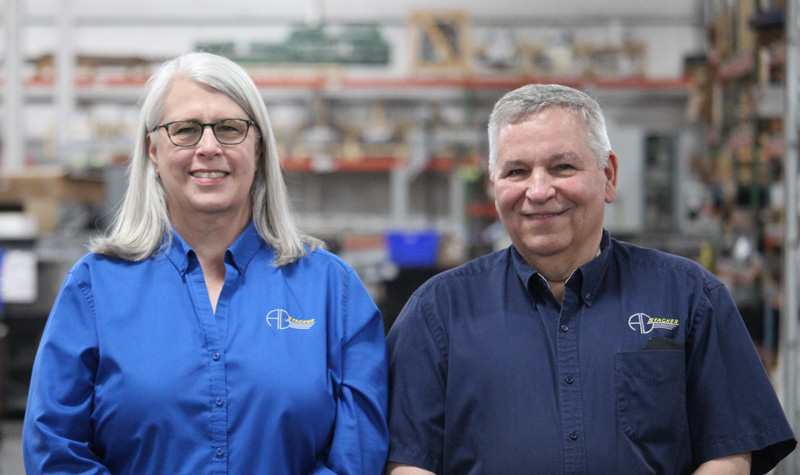 – Founded by Clarence and Helen Allen in 1996 with a Commitment to Innovation–
December 14, 2021 – Weyers Cave, VA— The year 2021 marks the 25th anniversary for A.G. Stacker, custom manufacturer and innovator of corrugated material handling equipment. Founded in 1996 by Clarence and Helen Allen, A.G. Stacker was created with a commitment to innovation that remains alive to this day.
A History of Innovation | 1996 – 2021
A.G. Stacker began as a full-service rigging company for custom plant moves, installations and redesigns. After years in the corrugated industry, the Allens gravitated towards innovation in rotary die cutter stackers and were inspired to pursue new, patent-seeking designs to improve the productivity, safety and longevity of this sector. With the first piece of original A.G. equipment released in 2000, the founders began selling and retrofitting stackers with A.G. equipment and upgrades. In 2007, the XRI Stacker came to market and has served as a proven stacker design that A.G. continues to build on to this day.
In 2008, A.G. received its first, of now 21, patents and currently has multiple patents pending with the USPTO. As the spirit of innovation continued to increase throughout the years, so did A.G.'s product offerings, with the addition of the X12 Pitless Lift Conveyor and the Bundle Conveyor System in 2012. In 2016, the G3 Stacker entered the market, building on the X12 platform and adding divert and separate, sample quality rejection and servo-driven tamper patented technologies to A.G.'s equipment lines.
With the appointment of Joe Wunder as President in 2017, A.G. shifted their innovation internally and put an emphasis on people, processes and technology. This sparked a full digital transformation whereby all A.G.'s operations, engineering, service and production are connected and available, any time and any where. By 2020, A.G. had developed multiple digital technologies, including augmented reality service options, a mobile application, a virtual reality factory environment, digital twin technologies and other internal processes. This set the stage for the new eSERIES equipment line – A.G.'s fully electric, fully integrated systems including the eBREAK Bundle Breaker and eZF Load Former – unveiled first at SuperCorrExpo in 2021. At the event, A.G. celebrated their 25th anniversary with many partners and customers with cake and drinks at their booth, as well as holding a party at their Weyer's Cave, Virginia facility for employees, vendors and family.
25 Years of Achievements
In the past quarter century, A.G. has accomplished many notable achievements, including but not limited to the following:
• 21 Patents Issued with 10+ Patents Pending
• UL-508A Certification
• TUV Rheinland Certification
• A Feature on Fox Business News' Manufacturing Marvels Segment
• An In-House Digital Innovations Lab equipped with digital twin, AR and VR technology
• 3 Digital Twin Assets and Counting
A Note from A.G. Leadership
"The key to our success these past 25 years is our people. Our Engineers continue to test the limits and bring new ideas to the table. Our production staff are some of the best welders, electricians and mechanics in the country and strive for excellence in their work. Our administration staff is eager to find new ways to improve efficiency and accuracy in our processes and procedures. And our sales representatives do an incredible job communicating the value of A.G. systems to our customers. We couldn't have made it this far without them and we are incredibly thankful for the positive attitudes and creativity they bring to work every day. If you want to achieve 25 years of consistent growth and innovation, it's all about investing in your people and the technology that makes their job easier." Says Helen Allen, Co-Founder of A.G.
Clarence Allen, Co-Founder, adds "Thank you to our valued customers. Often, it is customer collaboration and feedback that has sparked the many innovations at A.G. and we're so thankful for their openness and input. Together, we can continue to create systems and technology that converters truly want and need, for the next 25 years and beyond."
Joe Wunder, President of A.G., states, "It's amazing to see how far A.G. has come over the past 25 years and I'm honored to be apart of it. Our team is extremely passionate about what they do, and it shows. With the new digital transformation, the eSERIES equipment line and more innovations on the horizon, I have no doubt that A.G. will be leading the market in stacker and full line solutions for many years to come. Thank you to all of our valued customers, our awesome employees and our quality vendors and partners for helping us get to where we are today. The best is yet to come!"