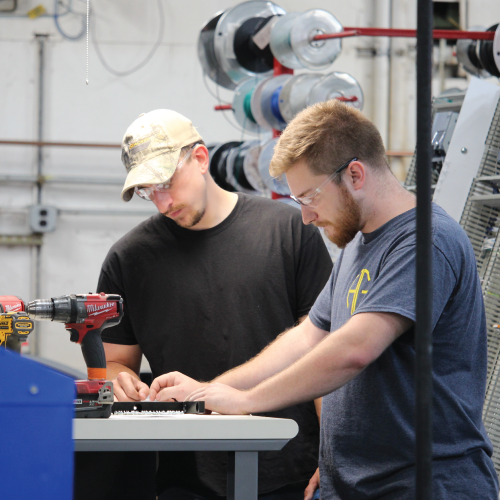 Since 1996, A.G. Stacker, Inc. has been committed to innovation. As a leader in the custom manufacturing industry, we are proud to have evolved into a multi-patent holding designer of full-line solutions and custom machinery for corrugated material stacking and handling operations.
The secret to our success, and many other businesses, is to have a culture of innovation that rings throughout the company. Culture is more than just state-of-the-art machinery and digital solutions. At A.G., there are three pillars that make up the foundation of our culture: People, Processes and Technology. Here's how we've maintained the core value of innovation at A.G. for over 25 years.
People are the Key to Success
As a family-owned business, A.G. Stacker places an emphasis on trust, respect and having a good work-life balance. We take pride in treating all employees like family, listening to their needs, and equipping them with the innovative tools for growth. We offer 100% paid health, dental, disability and life insurance, 401(k) with company match, tuition assistance, continuing education opportunities, paid holidays, and time off, and stipends for tools and much more, often at no cost to the employee. A company that looks out for its employees will reap the benefits of staff loyalty and productivity all year long.
Safety is also a key component to creating a culture focused on people. If you don't care about their safety, do you truly care at all? We think not. At A.G., we have invested in bright, clean production spaces, extensive onsite and digital twin training for new team members, separate workspaces for electrical safety and COBOT and CNC machines. Employees at A.G. know they can learn and develop new systems and technology in a clean, safe workspace, empowering them to test the limits of what's possible. A.G. Stacker takes pride in their staff and recognizes their contribution to an innovative work culture.
Proven Processes and Key Areas of Focus
In 2017, A.G. Stacker shifted their focus internally, to further develop an innovative culture. This ultimately led to the full digital transformation that A.G. Stacker is now known for. The processes are synthesized down to four key areas of focus, essential to the company's success.
Key Areas of Focus
We Build to Suit
Engineers at A.G. customize designs to the needs of our customers. Remaining open to new concepts or challenges is essential. We use our innovative DUO™ Digital Twin systems to collaborate with customers and custom engineer solutions built for their exact process goals.
We Build to Last
A.G. Stacker systems start with raw steel and are built in-house by an experienced team of builders. We've developed a national vendor network that keeps raw materials coming in and innovative solutions going out. All A.G. solutions are not only built to last the long haul, but also designed with features that will meet the speeds of future corrugated technology – up to 20,000 KPH!
We Stand Behind Our Systems
A.G. aims not only to deliver a best-in-class product, but also a level of service uncommon in the corrugated industry. Using CRM systems, our team has multiple service and support processes and technologies that empower our team to assist yours. The goal is to always be a trusted manufacturing partner, long after the asset is installed.
We Always Innovate
Holding over 25 patents, A.G. Stacker is proud to be incredibly innovative in our machine and technology offerings. We've empowered our team with both the processes and technology to achieve, but also the freedom to fail. To create anything innovative, you must give room for failure. At A.G. we use our digital twin assets to speed up the innovation process and reduce risk in the R&D stages of machine development.  Using these proven technologies, we continue to innovate new full line solutions for the future of corrugated.
These four key areas of process then connect back to the people pillar. A.G. Stacker employees develop the processes that lead to successful results, thus creating the majority of the company's recipe for a culture of innovation.
Leading Innovation Through Technology Solutions
Since 2017, A.G. Stacker has been working toward a full digital transformation of A.G. Systems. The goal of this transformation is anywhere, anytime connectivity for operations, engineering, service, and production. We've created new technology solutions that not only empower our customers, but also empower our team. From the DUO™ digital twins assisting with R&D and engineering to our GO AG™ mobile application improving remote service, A.G. has developed technology solutions that create a culture of innovation.
As stated, A.G. has also invested in multiple COBOT technologies and CNC machines that work alongside A.G. production staff to assist with safety and productivity. Using these manufacturing technologies, A.G. employees can build systems faster, safer and better.
In conclusion, we've discovered the recipe to creating a culture of innovation is People, Processes and Technology. When you invest in the right people, establish the best internal processes, and equip them with productive technology, the result is a company capable of achieving ultimate innovation.
"If you want to achieve 26 years of consistent growth and innovation, it's all about investing in your people and the technology that makes their job easier," concludes Clarence Allen, Co-Founder of A.G.