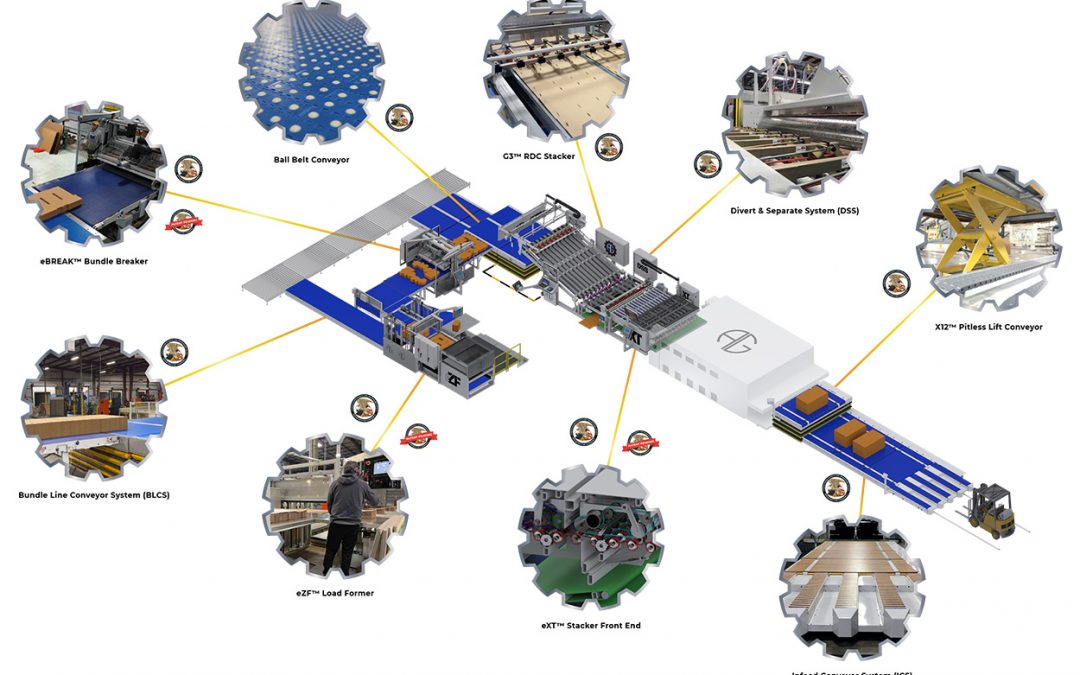 True profitability requires a streamlined approach to corrugated converting, from infeed to outfeed and every machine in between.  If you're considering a new high speed rotary die cutter or flexo folder gluer, you may want to re-evaluate the surrounding machinery, such as stackers, bundle breakers, conveyor systems, load formers etc. Or maybe you've already purchased a new workhorse but haven't achieved the speeds and performance expected. It could be your infeed and outfeed machines that are impacting your new machine's productivity. Afterall, you're only as strong as your weakest link.
Corrugated productivity is not siloed to one machine. All your machines must be capable of achieving the same speeds, performance, and throughput as the other, to achieve maximum profitability. Even more, your production team must be equipped with the knowledge and support to keep all components running in harmony. Don't waste the potential of your greatest assets. It's time to reimagine what productivity in your full line can truly be, with innovative material handling systems and technology from A.G. Stacker Inc.
Reimagine Production Speed
What good is a rotary die cutter capable of running 12,000 sheets per hour if the stacker can only catch 9,000? Why upgrade to a high-speed bundling system if production is limited by bundle breaking?  If you want true productivity in your line, you should invest in innovative equipment all the way through.
A.G. manufactures innovative outfeed solutions engineered for the speeds of today, AND is prepared for the speed demands in the future. Our outfeed lines include the G3™ Stacker, the fully electric eBREAK™ Bundle Breaker and eZF™ Load Former, as well as the patented X12™ pitless lift conveyor and bundle line conveying system. With an A.G. Stacker capable of 13,500+ kph, an automatic, servo controlled bundle breaker and a no-pit load former with fast cycle and set up times, you can reimagine productivity through your full line and take full advantage of your high speed converting equipment.
Reimagine Human & Machine Connectivity
For ultimate productivity, your machines must speak the same language. Having a fully integrated system will ensure all machines are running at the same speeds, with the same production plans, achieving the same goals. A machine that is not fully integrated is more vulnerable to jams, unplanned downtime, and operator error. All A.G. systems are fully integrated, utilizing the same, familiar user interface and simplified controls for standardization, efficiency, training, and ease of use.
In this digital age of information, accurate tribal knowledge is also a major factor in production throughput. By putting maintenance, parts, tutorials, and troubleshooting information in a digital application, your staff can quickly predict, plan, and prepare to keep unplanned downtime to a minimum. The GO AG™ digital application is the perfect solution to capture and distribute key production information to your production and maintenance staff. With GO AG™, operators and managers have access to custom and standard manuals, equipment models, training videos, troubleshooting guides, work instructions and more. Don't let legacy knowledge retire with your employees! Knowledge is uptime and uptime is money. Utilize a customizable, digital application, like GO AG™, to capture the important information that keeps your full line running profitably.
Reimagine the Future of Corrugated
The future of corrugated printing will focus on creating lean, sustainable production. Machinery will be engineered for productivity like always, however they will achieve even greater results through more energy-efficient, eco-conscious and occasionally, patent-protected technologies. Trends dictating the future of our industry include: staffing shortages, supply chain volatility, automation, competing processes and more.
To take advantage of full line productivity, both now and in the future, you must reimagine your facility with machine assets that are incredibly fast, fully integrated, digitally enabled, and eco-conscious. A.G. Stacker is committed to innovation and manufacturing all equipment and parts in the USA. With various retrofit and modular systems, we encourage you to reimagine your full line equipment to discover the true source of what's holding you back from ultimate productivity.
With over 25 patents and counting, A.G. has innovated a full line of solutions that increase throughput, improve quality and safety, and streamline the outfeed of RDC's, both bundles and stacks. A.G. is more than stackers – Reimagine A.G. as your full line solutions partner for ultimate productivity and innovation. To learn about our full catalog of stackers, bundle breakers, load formers, conveyor systems and digital technology solutions, contact our team at (540) 234-6012 or schedule a consultation online at: www.agstacker.com/sales-quote.