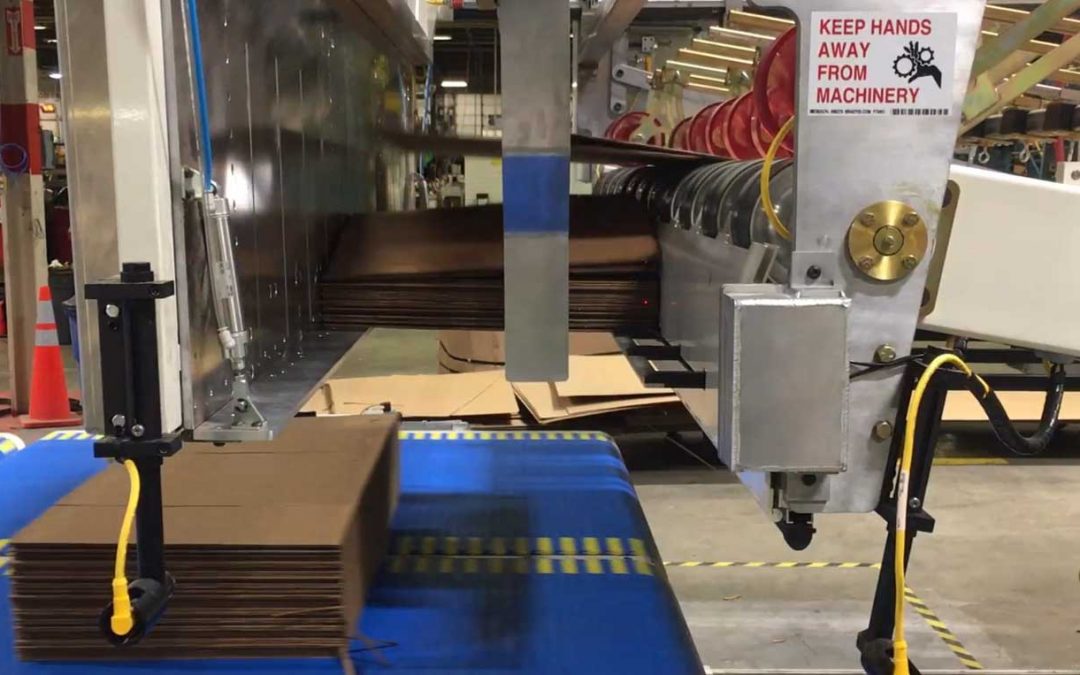 At A.G., converters have several machinery options when it comes to material handling equipment for post-RDC finishing. From the innovative eBreak™ Bundle Breaker to the patented Divert & Separate system, A.G. offers multiple equipment solutions engineered for sheet stacking, bundle batching, bundle breaking, load forming and more. It's important to understand which machine(s) fit your product mix to ensure that productivity is increased and the process is streamlined, all while improving quality and safety.
Is your production mix primarily single or multi-out stacks? Is it multi-out designs collated into nicked together bundles? Or both?  Often, the primary finishing functions are built into the machine as a stacking or bundle-making system. Depending on if you produce more premium stacks vs large bundles will determine the best A.G. solution to achieve the requirements of these packaging markets. Choosing the right A.G. material handling machinery will not only depend on your expected job order mix, but also floor space, speed requirements and other factors we'll discuss in this blog.
To Break or Not To Break
To break or not to break, that is the question. A.G. Stacker has innovated two system combinations to suit your preference for separating stacks or breaking bundles: the eBREAK™ Bundle Breaker and High Speed Hopper Ejector (HSHE) system combination or the Divert and Separate System (DSS) and eTamp™ Servo-Driven Tampers systems. The eBreak and HSHE are ideal for breaking nicked-together bundles, small or large, without any feed interruption on the RDC.  While the DSS and eTamp are engineered for separating a stream of sheets into full stacks with auto set-up for diverting, dividing and tamping. Both systems can be combined into a single machine capable of achieving world class production with full stacks or bundles. Let's take a closer look.
Divert and Separate System and eTAMP™ Servo-Driven Tampers. For converters operating predominantly in the eCommerce and premium packaging space, quality is top of mind.  Boxmakers in this market are often challenged to produce nick-free boards, clean cuts and ultimate board control/scrap removal in order to achieve the quality found in this premium packaging space. The DSS and eTamp™ system combination was engineered for this specific task.
Coming off the rotary die cutter, the high performance layboy will catch the sheet and drop the scrap at record speeds. The patented DSS system then uses its 8 arms to automatically divert and separate sheets, up to 4-out, with the simple swipe of a finger on the HMI. With the sheets shingled orderly onto the main deck, the eTAMP™ automatically sets the entire hopper section, dividers, side tampers, backstop and rear tamping using fully electric, servo-driven technology. These innovative machine components carefully stack the sheets, up to 4 out, as they come off the main deck at full speed. The eTAMP™ system is capable of running up to 4 outs, without the need for a bundle breaker, and is ideal for automating set-ups with a product mix that has a high percentage of 2-, 3-, or 4-out unnicked die cut sheets, that regularly repeat.

With auto recipe recall and adjustments at full speed, these two patented technologies are engineered specifically for maximizing performance for fast set-up, high speed stacking operations.
eBreak™ Bundle Breaker and High Speed Hopper Ejector. For boxmakers running orders with sheets nicked together, speed and quality are the name of the game. Often, standard RSC, HSC, and FOL box customers tend to be indifferent to whether their box has visible nick points. This allows a converter to run multiple across, utilizing agile die cut designs and variable bundle shapes, to move sheets through the machine faster, with higher throughput. As your bundle percentage gets higher, we recommend investing in the eBreak™ Bundle Breaker and High Speed Hopper Ejector combination to quickly and easily collate and break bundles of all configurations.
As the sheets are collated in the hopper, the patented high speed hopper ejector utilizes a backstop with a second set of "fingers" that catch the next bundle as the first moves down the line. With no feed interrupts at speeds of up to 14,000 sheets per hour, the HSHE can produce a new log every 8 seconds and is fully integrated with the X12™ lift table and bundle conveyor system. Next up, the eBreak™ Bundle Breaker steps in to break bundles of various configurations and heights, quickly and easily. Using its patent-pending movable platens, the eBreak™ system allows for a fully dynamic and customizable positioning of the entry and exit platens. These components can be set up to move independent of each other or synchronized together to provide a clean break for a variety of nicked bundle configurations. Variable, straight, nested, offset configuration etc. – the eBreak can break it all in a single bundle log.
With integrated safety features, order recipe recall, no feed interrupt and fast set up, these two patented and patent-pending technologies were engineered to exceed world class speeds with bundle production.
Important Considerations
At this point, you most likely have a good idea of which system would be in favor of your production mix. But will it work for your facility and­ processes? Here's a few things to consider with each system.
Divert and Separate System and eTAMP™ Servo-Driven Tampers.
The DSS/eTamp™ combination requires space – not in width, but in length of your running direction. These systems will make your line longer and it's important you consider the real estate needed for them.
Regardless of whether you're running bundles or stacks, with the eTamp™/DSS you will need to interrupt the feed to cycle your stack through the line.
The combination of both systems is an incredibly versatile option for converters with a diversified production mix and a focus on reducing assets.
eBreak™ Bundle Breaker and High Speed Hopper Ejector.
The eBreak™ is extremely modular and can be installed straight with the line or veer off to the left or the right (or both if you're running multiple bundle lines). Using the bundle conveyor system with patented ball belt technology, you can discharge your bundles in any direction.

The HSHE is engineered with two sets of "fingers" to catch nicked sheets. The HSHE combination is for bundle lines only and will not accommodate multi-out stacks or bundles.
Choosing the Right A.G. Material Handling Equipment
For over 25 years, A.G. Stacker has been a leader and innovator in custom sheet material handling equipment. Our full line of solutions include stackers, bundle breakers, load formers, conveyor systems and integrated technologies. Now that you've reviewed the recommended equipment systems for bundle and/or stack production, it's important to ask yourself the following questions: Do I have more stacking or bundling jobs? Do my customers care about nick points? Do I have the space for the equipment I think is best? What gaps do I have in my current production fleet?
All corrugated production environments are different. There is no one-size-fits-all line configuration. Our knowledgeable sales and service team can help you comb through the details to decide the best material handling equipment for your production mix, facility, goals and opportunities. Speak with our team today to learn more.